Electro-Harmonix Gold 300B Gold Grids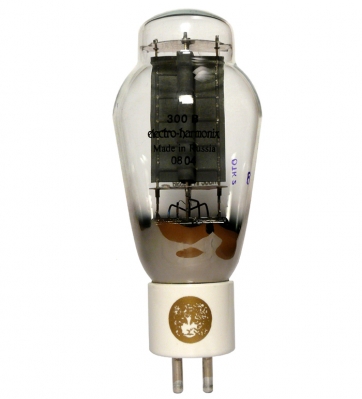 Attention All EHX Tube Customers
We are continuing to accept new orders and process backorders, subject to our new price list and with priority given to the oldest orders.
For all non-US customers with combined Russian tube orders of $4,500 or more, consider having our Russian warehouse directly ship such orders to you.
Please contact your EHX Sales Representative for details.
Premium version of the 300B EH with gold grid wire for increased bias stability as well as top of the line sonics and performance.
EH Gold tubes are all new designs and are of excellent quality. Many OEMs use relabeled EH Gold vacuum tubes in their amplifiers. If you want great sounding tubes at a very reasonable price, then Electro-Harmonix tubes should be on your list.
See matched version:
https://shop.ehx.com/item/300BEHPL%20GOLD
Tube Specs
:
http://shop.ehx.com/catalog/tubes-specs/300B%20gold.pdf