Mullard KT88 - Platinum Matched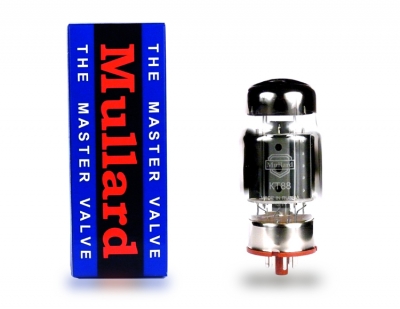 Attention All EHX Tube Customers
We are continuing to accept new orders and process backorders, subject to our new price list and with priority given to the oldest orders.
For all non-US customers with combined Russian tube orders of $4,500 or more, consider having our Russian warehouse directly ship such orders to you.
Please contact your EHX Sales Representative for details.
Not available for shipping to the following jurisdictions: EU (except BENELUX), United Kingdom, Kenya, Malawi, Namibia, New Zealand, Singapore, and Sudan.
Premium Octal beam Tetrode, an exact copy of the KT88 valve manufactured by Marconi-Osram for Marshall in the late 1960s and 70s. Powerful, balanced and detailed soundstage with full bass.
• Direct replacement for any 6550 types
See unmatched version:
https://shop.ehx.com/item/KT88%20MULLARD
MATCHED TUBES NOTICE:
Special-range matched tubes are not available during the current tube shortage.